New Patient Center at

Active Spine & Sports Care
Dr. Dimaano and Dr. Ayala are interested in getting you back in action as quickly as possible! To understand what to expect for your first visit to our practice, please read through this page. You'll find all the practical information you need, such as what to expect of your First Visit, Patient Medical Forms, Payment Policies and more. You can even save some time at your first visit by printing out and completing the New Patient Form in advance of your appointment.
On Your First Visit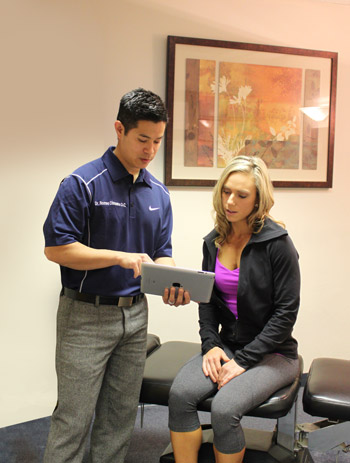 On your first visit, we would like to establish a vital foundation for our relationship with you. We obtain important background information, like your medical history, and give you time to get to know Dr. Dimaano and Dr. Ayala and how they work.
Upon arriving on time and with the appropriate new patient forms, Dr. Romeo Dimaano or Dr. Aaron Ayala will take a detailed history concerning your main complaint and some thoughts on how you became injured or what types of goals you've set. Your new patient visit typically takes 30 minutes and will not include x-rays. Routine x-rays are not necessary for a new patient evaluation and only ordered when warranted.
Please be ready to provide your medical history, which will be essential for preparing a course of treatment for you. Medical records, such as diagnostic test results, or imaging results, such as X-rays and MRIs, also will provide important information about your condition.
Certain things in your health history are particularly vital for us. This information could provide important clues that will allow Dr. Dimaano or Dr. Ayala to properly diagnose your problem. Such clues include (whether you still have or have had):
Injuries, such as bone fractures, muscle sprains, or disc injuries
Surgeries, including spine or muscle related surgeries
Bone disorders, such as osteoporosis
Circulatory problems
Dizziness or blurred vision
Heart conditions such as hypertension or high blood pressure
Infections, especially those affecting your your musculoskeletal system
Joint disorders such as arthritis
Sleep apnea
Please be also prepared to answer such questions as:
When and how did your pain start?
Did your pain started immediately after an injury?
Is there anything you do that help you improve the pain? or something you do that worsens it?
Where is the pain centered?
Many of our patients will receive some form of treatment on their first visit. It is important to know that Dr. Dimaano and Dr. Ayala take a "hands on" approach, meaning that the majority of your treatment time is directly with them and not with a machine (Electrical Muscle Stimulation, Ultrasound, etc.) They will utilize a variety of manual techniques to help you get back to your active life. Typically, by the end of your first visit, Dr. Dimaano and Dr. Ayala will design the best treatment plan that will address your problems and that will help you return to your normal activities of daily living.
Patient Medical Forms
Please print and fill out the following forms so we can expedite your first visit. Fax us your printed and completed form(s) at 805.384.0220 or bring them with you to your appointment.
Payment Policies and Insurances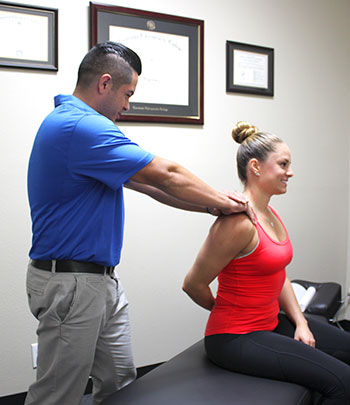 Payment Options
We provide financing options and treatment packages.
We accept cash, personal checks, or credit cards including
Mastercard, Visa, and American Express.
Insurance Plans
Dr. Romeo Dimaano and Dr. Aaron Ayala use many therapeutic procedures and alternative disciplines available to customize your treatment plan. We would be more than happy to file with your insurance to help you defer what costs they will cover.
Please contact our office about your insurance plan and we would be happy to verify your benefits for you. Please note that if Dr. Dimaano's or Dr. Ayala's practice does not directly participate with your insurance carrier, you may still be able to receive treatments and benefits. We strongly encourage you to contact your insurance carrier to find out about your insurance coverage, deductible, and co-pay as well. There will typically be a toll free number on the front or back of your insurance card.
No Insurance
For patients who have little or no chiropractic insurance coverage, flexible payment programs can be arranged. Many patients pay directly for care (we accept cash and personal checks), as they discover chiropractic to be cost-effective and affordable. In addition, we offer special payment packages, please consult with our office manager.